OMAHA (DTN) — According to retail fertilizer prices tracked by DTN for the third week of April 2018, prices continue to be mostly on the higher side. However, there are signs that perhaps this is finally changing.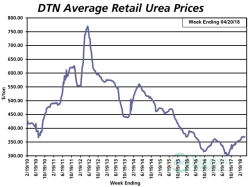 For the first time in several months, multiple fertilizers were actually lower in price compared to the month before. Both MAP and urea had slightly lower prices with MAP having an average price of $502/ton and urea $368/ton.
The remaining six fertilizers were again higher compared to last month, but these moves were small. DAP had an average price of $484/ton, potash $353/ton, 10-34-0 $431/ton, anhydrous $508/ton, UAN28 $240/ton and UAN32 $275/ton.
On a price per pound of nitrogen basis, the average urea price was at $0.40/lb.N, anhydrous $0.31/lb.N, UAN28 $0.43/lb.N and UAN32 $0.43/lb.N.
With a delay in fieldwork due to a cold and damp spring in many Midwestern locations, one has to wonder if farmers will shift to other forms of nitrogen if the nutrient hasn't already been applied.
Jeremy Olson, an agronomist with Pederson Seed and Service located in Hiawatha, Kansas, told DTN that most farmers in northeastern Kansas got at least some of their nitrogen applied last fall, thanks to cooperative weather after harvest. Because of this, there should not be much changing in regards to nitrogen, he said.
"Some of our acres, maybe 10% to 15% of the acres, got spring anhydrous application," Olson told DTN. "It would have been tough to get much (anhydrous) on this spring."
Olson said they are doing some experimenting with ESN Smart Nitrogen (urea granule contained within a polymer coating) and/or urea mixes behind the planters as a supplemental source of nitrogen. This would mainly be on high yielding fields, which would be utilizing nitrogen modeling, he said.
Some farmers in his region delayed phosphorus (P) and potash (K) applications this winter and didn't make those decisions until late January into February. He was still busy sending out variable P and K maps to his customers up to the last couple of weeks.
"I think that is purely a function of cash flow," he said.
Half of the major fertilizers are now higher compared to last year, with prices pushing higher in recent months. Both potash and urea are now 4% more expensive; MAP is 8% more expensive; and DAP is 11% higher compared to last year.
The remaining four fertilizers are lower in price compared to a year ago. Both 10-34-0 and anhydrous are 1% less expensive, while UAN32 is 2% lower and UAN28 is 3% less expensive looking back a year.
DTN collects roughly 1,700 retail fertilizer bids from 310 retailer locations weekly. Not all fertilizer prices change each week. Prices are subject to change at any time.
DTN Pro Grains subscribers can find current retail fertilizer price in the DTN Fertilizer Index on the Fertilizer page under Farm Business.
Retail fertilizer charts dating back to 2010 are available in the DTN fertilizer segment. The charts included cost of N/lb., DAP, MAP, potash, urea, 10-34-0, anhydrous, UAN28 and UAN32.
DTN's average of retail fertilizer prices from a month earlier ($ per ton):
DRY
Date Range
DAP
MAP
POTASH
UREA
Apr 17-21 2017
438
466
339
352
May 15-19 2017
437
471
340
350
Jun 12-16 2017
437
470
341
338
Jul 10-14 2017
436
467
340
321
Aug 7-11 2017
434
462
339
311
Sep 4-8 2017
431
458
338
302
Oct 2-6 2017
425
453
348
323
Oct 27-Nov 3 2017
434
455
348
330
Nov 27-Dec 1 2017
435
460
342
340
Dec 25-29 2017
448
488
344
348
Jan 22-26 2018
458
492
344
353
Feb 19-23 2018
460
496
345
357
Mar 19-23 2018
469
504
349
368
Apr 16-20 2018
484
502
353
368
Liquid
Date Range
10-34-0
ANHYD
UAN28
UAN32
Apr 17-21 2017
437
509
247
280
May 15-19 2017
436
510
248
283
Jun 12-16 2017
435
500
246
278
Jul 10-14 2017
431
451
235
268
Aug 7-11 2017
440
419
224
258
Sep 4-8 2017
418
413
215
248
Oct 2-6 2017
413
399
208
243
Oct 27-Nov 3 2017
405
401
208
262
Nov 27-Dec 1 2017
403
417
216
271
Dec 25-29 2017
407
468
216
254
Jan 22-26 2018
415
490
226
261
Feb 19-23 2018
416
495
231
265
Mar 19-23 2018
422
503
236
269
Apr 16-20 2018
431
508
240
275