BLOOMINGTON, Ill./PRNewswire/ — For the second year in a row, Illinois corn farmers have invested close to $4 billion in crop inputs, supplies and services to grow their crop. That is despite the fact that the 2018 Illinois corn crop represents an estimated 200,000 fewer planted acres than last year.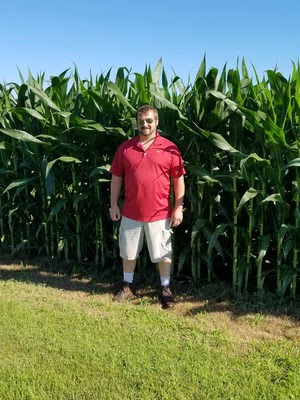 According to University of Illinois agricultural economist Gary Schnitkey, corn farmers from the Land of Lincoln are spending $8 more per acre in 2018 than in 2017 to grow 11 million acres of corn. In 2018, Schnitkey expects farmers to spend $353 per corn acre for seed, inputs, drying, storage and crop insurance, representing approximately a $3.883 billion investment in the crop. That number was $345 per corn acre last year.
"Like most years, the 2018 Illinois corn crop is well ahead of the traditional knee-high by the Fourth of July target," says Aron Carlson, Illinois Corn Growers Association President and farmer from Winnebago, Illinois. "We are consistently among the top corn growing states in the nation, and we are proud to help fuel our state's economic engine with homegrown corn."
This year's crop is off to such a strong start that 91 percent of corn fields are rated good or excellent quality, according to the U.S. Department of Agriculture's (USDA) June 25, 2018, Crop Progress Report.
In 2017, Illinois farmers produced 2.2 billion bushels of corn valued at more than $7.3 billion. Illinois' corn production resulted in more than $535 million in state and local revenues, not including property tax. The Illinois corn industry employs nearly 99,000 people.
Unfortunately, this is likely to be a challenging year for corn growers across the U.S. The USDA Economic Research Service's 2018 Farm Income Forecast predicts cash receipts will be down $1.9 billion (4.0 percent) for the year, primarily due to lower expected prices. Based on the USDA predictions, 2018 will be the fifth straight year with a drop in net farm income.
"We're proud of the corn we grow here in Illinois and we hope others will be, too," Carlson adds. "We welcome open and honest conversations with our fellow Illinoisans about our corn and how we grow it. We hope you'll follow along with the corn crop as you travel through our state or visit us virtually on our online platforms."
In this spirit, a series of videos from Illinois Farm Families provides a 360-degree view of Illinois corn from planting to harvest. You can check out the series at watchusgrow.org/corn.