GOTHENBURG – When Barry and Gwen McDiarmid were approached about putting in ethanol blender pumps at their gas station south of the Gothenburg I-80 interchange, they were skeptical.
"My first reaction was, 'we can't afford that,'" said owner Barry McDiarmid. "Now business is great!"
With help from the Nebraska Corn Board the American Coalition for Ethanol (ACE) and the leadership of Scott McPheeters, among others, the dream became reality.
On Thursday, a large group of people, including Lt. Gov. Mike Foley and 36th district State Senator Matt Williams were on hand for the ribbon cutting.
The station will offer several blends of ethanol including e-10, e-15, e-30, e-40 and e-85. McPheeters says that people should not be concerned about using ethanol.
"Henry Ford said ethanol (alcohol) was what cars should be powered with," McPheeters said. "I have used several different blends of ethanol in my family vehicles without any problems. Any car made after 2001 can run E-15. I have used high blends and I don't have a flex-fuel vehicle."
Senator Matt Williams of Gothenburg said that this was a good thing for Gothenburg.
"This is a great opportunity for Agriculture and for Barry and Gwen," Williams said.  "What it really means is that our citizens can now buy blended ethanol at the pump. That not only helps out the agricultural community, but also supports clean air and other health benefits, so I am excited."
Foley was also pleased with the opening of the station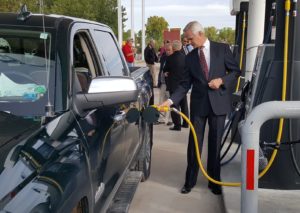 "Ethanol leads the way in the state," he said. "Hopefully what is happening today,  is a model for 100's of more pump stations offering motorists so many more options. I am so pleased with the cooperation with KAAPA Ethanol, the Environmental Trust, the Corn Board, the Ethanol Board and so many others. Congratulations for what you've already accomplished."
Ron Lamberty is the Senior Vice President for Marketing with ACE. He said pioneer stations like these are important.
"Station owners believe other station owners before they believe me," Lamberty said. "What Gwen and Barry are doing will show other potential station owners that it can be done.
McPheeters said it took about seven months for the project to come together. Glacier-like speed for McPheeters however, Lamberty said it came together relatively quickly for something of this size.
Click here to listen to Lamberty.