Lexington, Neb. — Myndee Hagan of Elwood was sworn-in to serve as County Clerk Magistrate for Dawson and Gosper Counties.
Judge Jeff Wightman administered the magistrate's oath of office Tuesday afternoon in the Dawson County courtroom.  This was the second time she took the oath,  as she was sworn-in last month before she began her duties on April 30, 2018,  replacing retired Clerk Magistrate Dianna Wheeler.
Hagan thanked employees of the State Court Administrator's Office and employees of the Dawson and Gosper County Courts. Hagan also thanked area attorneys for their help and support. Hagan also recognized her family and friends for being her "support system."  Myndee's parents, Gwendolyn and Scott Stoll of Elwood, were present for the ceremony as well as attorneys, court employees and retired Dawson County Judge Carlton Clark.
Shane Hagan placed the traditional judge's robe on his wife and Myndee introduced her four children: 1 & 1/2 year old Brielen, 4 year old Korragan, 6 year old Traeston and 8 year old Christdolyn.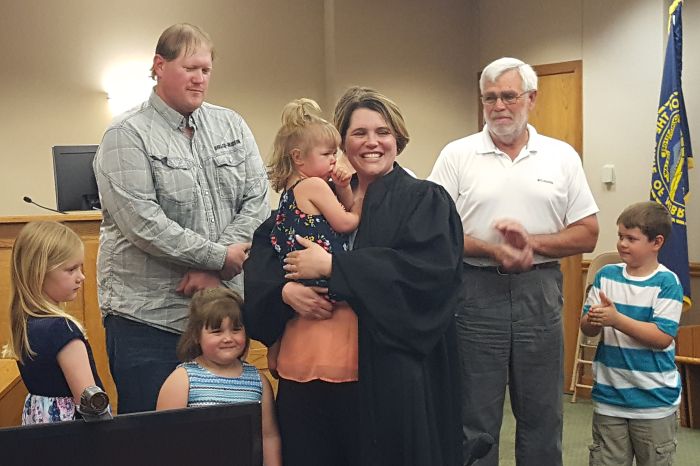 A reception was held following the ceremony.