The year: 1987.  
The venue: Memorial Stadium.
The lineup included Wille Nelson, Neil Young, Vince Gill, among others.
The purpose was was to save the family farm.
—-
September 19th was the 31st anniversary of Farm Aid III,  an event that drew nearly 70,000 people into Memorial Stadium.
According to the Lincoln Journal Star, "Farm Aid III was a full day, starting at noon when Farm Aid founder Willie Nelson and his band Family launched into their trademark opener "Whiskey River" and ending 10 hours, 15 minutes later with Arlo Guthrie leading the day's performers — and the crowd — through his father Woody's "This Land is Your Land." " 
We hear more about Farm Aid III from a man who helped make it happen.  Dr. Martin Massengale served as University of Nebraska – Lincoln Chancellor from 1981 – 1991.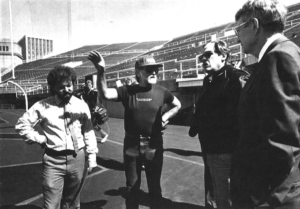 According to event organizers, Farm Aid has raised more than $53 million to promote a strong and resilient family farm system of agriculture. Farm Aid continues a music festival, with this year's event taking place in Connecticut.