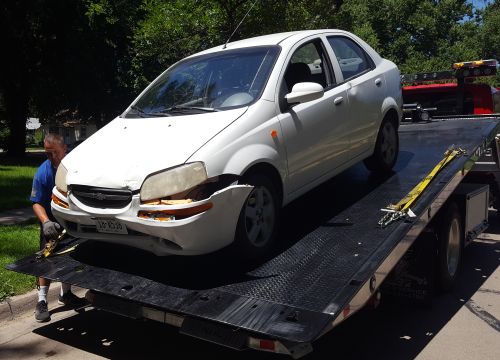 Lexington, Neb. — Lexington Police Officers were called to a two-car collision in a north-central Lexington neighborhood at approximately 2:10 p.m. on Wednesday.
A young woman driving southbound in a compact Chevrolet Aveo plowed into an unoccupied Nissan Altima while it was parked in front of 1411 North Grant. The impact shoved the Altima ahead about 10-12 feet, leaving a prominent skid mark.
A young woman at that address said she was inside when she heard what sounded like a huge "bang." She went outside and observed a young woman exit the Chevrolet Aveo with two children,  a 9 year old boy who was bleeding from the nose and a 12 year old boy who was holding his chest.
The woman who lived at the house called 9-1-1, but the driver of the vehicle and the two children left the scene. A Lexington Volunteer Fire Department ambulance arrived at the scene, but there was no one to treat for injuries.
Lexington Police Officers investigated the accident and the Chevrolet Aveo was removed from the scene by a wrecker with a flatbed. It's unknown whether Lexington Police were able to locate the owner of the Chevrolet Aveo.