For the first time in 10 years, quadruplets have been born at Nebraska Medicine – Nebraska Medical Center. Three boys and one girl were delivered via cesarean section (C-section) on Friday, Feb. 23, to Shalee and Andy McCarter of Overton, Nebraska. The babies mark the first set of quadruplets born in Nebraska for 2018. After spending nearly a month in the Newborn Intensive Care Unit (NICU), all four babies are now at home with their parents and 10-year-old sister, Elle.
"Everything was flawless," says Ann Anderson-Berry, MD, medical director of the NICU at Nebraska Medicine. "We worked together as a team and the four babies had wonderful outcomes. They're growing and thriving – you couldn't ask for a cuter set of three brothers and their sister. This family was a pleasure to take care of."
At six-weeks gestation, Shalee and Andy, who used fertility treatments, learned they were pregnant. At first, doctors in Kearney, Nebraska, thought it was triplets. It wasn't until Shalee's 18-week checkup that the ultrasound revealed she was actually carrying quadruplets.
"All of a sudden, there was Blakelee!" says Shalee. "It was a big shock to learn that there were four of them."
"Shalee was really surprised and said, 'oh wow, four!' Her husband was speechless and looked pretty stunned," says Ramzy Nakad, MD, a Nebraska Medicine maternal-fetal medicine specialist, who was in the room when Shalee and Andy heard the news.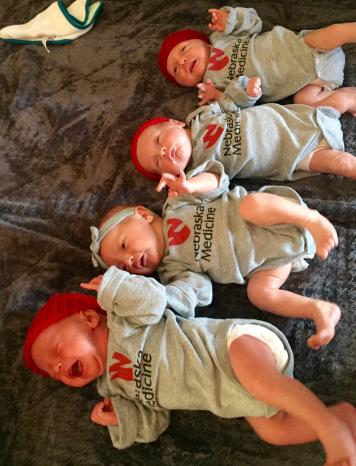 Nebraska Medicine has outreach clinics across the state, where maternal-fetal medicine specialists help with the diagnosis, consultation and management of high-risk pregnancies. During several of Shalee's appointments in Kearney, a Nebraska Medicine maternal-fetal medicine specialist was present.
"Nebraska Medicine offers a wide variety of specialized care for women," says Teresa Berg, MD, medical director of Women's Services at Nebraska Medicine. "We have several services that aren't offered in other parts of Omaha or the state. When planning for multiples, you need to be ready for any complications that the mother or her babies might have."
On Jan. 3, at 26 weeks and five days gestation, Shalee started to dilate and have contractions. She was flown to Nebraska Medicine – Nebraska Medical Center for around-the-clock care. The goal? Get the babies to 34-weeks gestation.
"It takes a lot of different people to care for somebody with multiple babies," explains Dr. Berg. "We had nurses, physicians, residents and NICU staff who checked in with her several times each day. Shalee continued to have ultrasounds until we got to the point where we were ready for delivery."
"I had contractions the entire time I was in the hospital, but they never got stronger – which was good," explains Shalee. "My own personal goal was to get to 32 weeks, so to actually get to 34 was awesome."
Shalee's C-section was scheduled for Friday, Feb. 23. The day prior, members of the Labor and Delivery Unit surprised Shalee with a baby shower. Because she had been at Nebraska Medicine – Nebraska Medical Center for nearly two months, Shalee had formed a special bond with the staff.
"We wouldn't have gotten this far without them," says Shalee. "They're an amazing, caring team of people and we got to know them all so well. There wasn't a day or hour that went by that some nurse or doctor didn't stop in my room to see if we needed anything."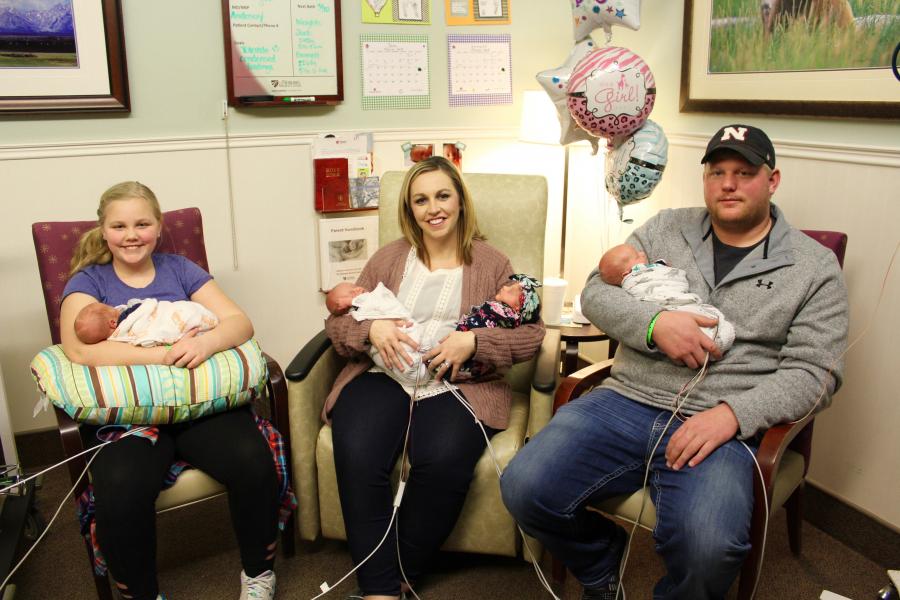 On the day of the delivery, everything was planned out. Maternal-fetal medicine specialists, anesthesiologists and nurses filled the operating room, along with 18 members of the NICU. The babies were delivered with no complications, and according to Shalee, already have their own personalities.
– Jack Andrew, born at noon, weighing 4 pounds, 9 ounces. "Jack is easy going, doesn't get upset about much, likes to hang out and eat."
– Emmett Axel, born at 12:01 p.m., weighing 4 pounds, 4.8 ounces. "Emmett is the smallest, but has the most personality and lets you know when he's hungry!"
– Blakelee Kay, born at 12:02 p.m., weighing 4 pounds, 7.6 ounces. "Blakelee is our little princess. She's super sweet and very laid back."
– Beau Ryan, also born at 12:02 p.m., weighing 4 pounds, 14.3 ounces. "Beau is the bum out of all of them – he just lays there and even sleeps through his bath!"
Before being discharged from the NICU, all four babies had to pass certain developmental skills, such as being able to eat by mouth, gain weight, no pauses in their breathing or drops in their heart rate, able to sleep in an open crib and keep themselves warm. Jack and Emmett went home on March 19, followed by Beau on March 20 and Blakelee on March 22. Thanks to guidance from the NICU nurses, the babies are already on a feeding schedule.
"Shalee delivered 18 pounds of baby and is now breastfeeding all of them," says Dr. Anderson-Berry. "To see four healthy babies is really rewarding. It speaks to Nebraska Medicine's level of preparation and commitment. We pride ourselves on quality and caring for the whole family. It literally takes a village to care for all of these babies."
"We're so excited to have everyone at home and just be a family. Elle is especially thrilled to have a baby sister – she already says Blakelee is her best friend," smiles Shalee. "The whole experience went by so fast, and the babies are already growing so fast. We're blessed that everyone is happy and healthy."
The last set of quadruplets delivered at Nebraska Medicine – Nebraska Medical Center happened via C-section on Feb. 11, 2008. The babies were born at 23 weeks gestation and spent four months in the NICU.