We've talked about plenty of teams over the last couple of weeks here at KNEB.
Whether it's on-air with many area football coaches or here on the web or video breakdowns on TV sportscasts, we're just about set for the start of the fall high school sports season.
Tuesday we had an update from Scottsbluff football practice. Yesterday it was Gering volleyball audio with Amanda Cochran.
Today it's the Scottsbluff Lady Bearcats softball team front and center.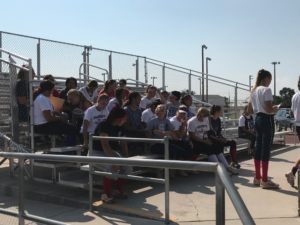 Scottsbluff is coming off a 10-21 season a year ago but Head Coach Michael Gentry is confident that this year the team can live up to his expectations.
So the expectations are there and that means there is plenty of talent on the roster, from veterans down to some of the younger players.
Scottsbluff is set to open their season on Friday with a road game at Lexington before the all-day Lexington Invitational on Saturday. They'll know a lot about their team after this first week of the season.
Alliance and Chadron will be the other teams from the region competing in Lexington on Saturday. Chadron will make a stop for a game at Southern Valley beforehand on Friday night.
For the full video preview for Scottsbluff from today's sportscast on KNEB.tv click here.