GOTHENBURG- Basketball season began on Thursday for Gothenburg and Lexington. The Swedes hosted the Minutemaids and the Minutemen, and it was the Swedes that were able to take both the girls and the boys games.
In the girls game, Gothenburg took down Lexington by a final score of 49-34. It was a tightly contested game from the get-go and after one period of play, Gothenburg led the Minutemaids 11-9. In the second quarter, Gothenburg maintained their lead and led Lexington 23-16. In the third, Lexington outscored Gothenburg and cut the deficit to 27-22 entering the fourth quarter. The final period was when Gothenburg took over as they scored 22 points to Lexington's 12 en route to their win.
For Lexington, Courtney Hanson had a big game recording 16 points. For the Swedes, Gracie Stienike had 19 to lead Gothenburg.  Lexington will host Ogallala on Friday night. Gothenburg will face Hershey on the road.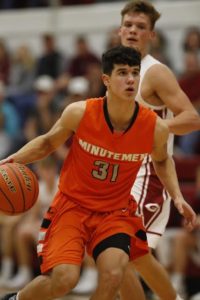 In the boys game, it was a thriller as Gothenburg won 48-46 in the final seconds of the game. In the first quarter, Lexington jumped ahead with some physical play, leading 14-13 after one. In the second quarter, Lexington kept their marginal lead, and at the intermission, it was 26-23. In the third quarter, it stayed close as Gothenburg scored 10 points to Lexington's nine and the Minutemen led 35-33 after three quarters. In the final quarter, Gothenburg had to come back from a six-point deficit in the final minutes. Lexington knotted it up with a three-pointer with 10 seconds to go, but Bennett Folkers of Gothenburg drove the length of the court and made a layup with .6 seconds left in the ballgame to win.
For Lexington, Nick Saiz had 12 points. Gothenburg was led by Bennett Folkers' 24 points.  Lexington will host Ogallala and look for their first win. Gothenburg will battle Hershey on the road.