Here's a rundown of the area games from Friday night.
Scottsbluff 56, Sidney 21…The Bearcats improved to 7-1 on the season and 2-0 in district play with a blowout win at Weymouth Field in Sidney. This one was tied 14-14 at the end of the first quarter but then Scottsbluff rolled up 35 unanswered points in the the 2nd quarter. Max Mason ran for, unofficially, 234 yards on 22 carries and scored five more rushing touchdowns. Mason now has 25 rushing TD's on the season and just shy of 1,500 yards on the ground.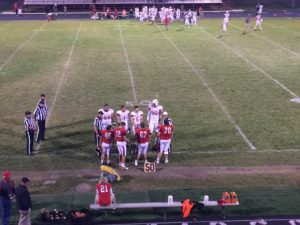 The Bearcats totaled 491 yards of offense including 433 of those yards coming on the ground. Quarterback Noah Bruner had two big pass plays on the final drive of the first half, hitting Landon Walker for 37 yards and then connecting with Garrett Nelson for a 21 yard touchdown. The Bearcats defense also scored as Keegan Reifschneider returned an interception 36 yards for a touchdown. Scottsbluff will host Alliance next Friday night with the district crown on the line.
Alliance 34, Gering 6…Alliance got to 2-0 in district play and 5-3 overall spoiling the homecoming game for the home standing Bulldogs. It was Gering getting on the board first as Skylar Mueller scored on a 55 yard fumble return to get Gering out to a 6-0 first quarter lead. From there it was Alliance taking control; Tyler Trout scored a rushing touchdown in the first quarter and close to the midway point of the second quarter Owen Shelmadine hit Brody Brennan with a 10 yard touchdown pass and the visitors led at halftime 14-6. Early 3rd quarter it was Trout with a 40 yard touchdown run…and he'd find pay dirt again late third quarter with a 7 yard td run. He finished with 169 yards rushing. Alliance had 345 yards of total of offense while Gering totaled 137 yards.
Chadron 28, Mitchell 26…Despite four touchdowns from Drake Gilliland it was Chadron scoring a fourth quarter touchdown to get the win.
North Platte St. Pat's 63, Kimball 14
Hershey 35, Bridgeport 6
Valentine 54, Bayard 14
Ogallala 42, Gordon-Rushville 7
Cody-Kilgore 82, Potter-Dix 6
Crawford 57, Creek Valley 14
Garden County 48, Leyton 6
Minatare 25, Hyannis 24
South Platte 36, Arthur County 12
Dundy County-Stratton 70, Morrill 0
Wyoming scores:
Torrington 29, Buffalo 10
Wheatland 52, Burns 26
Glenrock 22, Lyman 12
Guernsey-Sunrise 79, Rock River 13
Lingle Ft. Laramie 74, Hulett 18
Southeast 30, Niobrara County Lusk 14
Tongue River 28, Pine Bluffs 14