KEARNEY – 30-year-old Andrew Joseph Callahan has been reported missing from Buffalo County and authorities need your help. Callahan is a white male, with brown hair, green eyes and is 6' 2" tall
and weighs 280 pounds.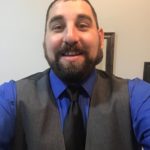 Last contact made with Callahan was Wednesday, May 2nd, 2018, when he said he was heading out of town (Kearney) and going camping, but would be back Friday or Saturday. No other contact has been made since.
He was last seen driving a blue 2004 four door Ford F-150 with Nebraska plate number 9-8590A. The F-150 has a "Houston Texans" sticker and "Complete weddings + events" sticker on the back window. The truck also has a large radio antenna fixed behind the cab on the driver's side.
If you see Andrew or his pickup, contact the Kearney Police Department at 308-237-2104 or
your local authorities.