One Stanton man is out of trouble and another Stanton man is in more trouble after he provided a false name and personal information following his arrest on Monday in downtown Stanton on a felony drug charge. Joshua Knight, 29, of rural Stanton remains in custody and faces additional charges after it was discovered that he and a Tatyana Wheatley, 28, of rural Stanton gave the Sheriff's office a false identity on Knight claiming he was Clifford Wheatley, the brother of Tatyana.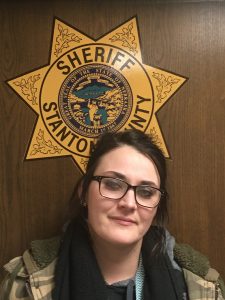 It was discovered on Tuesday morning that Knight was using the alias in an effort to conceal his true identity. Knight admitted to using the false name and was found to have two active felony warrants out of Buffalo County and a probation warrant out of Platte County. Knight now faces additional felony charges in Stanton County of Criminal Impersonation and being a Habitual Criminal and is being held on a $50,000.00 bond. Tatyana Wheatley was also arrested on Tuesday afternoon for Aiding and Abetting Criminal Impersonation and Obstructing a Police Officer. She also was detained on a Douglas County Arrest Warrant for Theft by Shoplifting. She was released on a bond after being booked at the Sheriff's office. She was cited on Monday for Possession of Drug Paraphernalia.
—
Original Story: Mon Dec 14
Stanton man arrested on felony drug charge, sister cited
On Monday morning just before noon, the Stanton County Sheriff's office stopped an SUV for failure to yield to a pedestrian on 10th Street in Stanton. During the traffic stop drug paraphernalia was located and subsequently syringes and methamphetamine was located in the possession of the front seat passenger. Taken into custody on the felony drug charge was Clifford Wheatley, 30, of Stanton. The driver Tatyana Wheatley, 28, of Stanton was cited for Possession of Drug Paraphernalia and released. Clifford Wheatley remains in jail pending the posting of a bond.