Firefighters from throughout the region are hoping for good weather conditions Friday to help with mop-up of a blaze in the Banner County hills south of McGrew that so far has claimed an estimated 4,000 acres.
Region 22 Emergency Management Director Tim Newman Friday morning told KNEB News the flames that had scorched a significant area west of Hubbard Gap died down to a large extent around 3 p.m. Thursday, but there was a major run to the south once the wind shifted overnight. "It got really close to some structures on the south side of the ridge, but they got it stopped," said Newman. "This morning we've got three divisions out, and we have resources from as far away as the Lake McConaughy area, and Crawford and Harrison."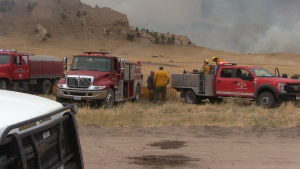 According to a release from Jodie Fawl with the Nebraska Emergency Management Agency, thirteen flights, were flown by three single engine air tankers (SEATs), one out of Chadron and two from South Dakota, plus a large air tanker out of Jefferson County Airport in Colorado has flown four sorties.
The Nebraska Forest Service, which manages multiple SEAT bases in Nebraska, opened the Scottsbluff SEAT Base so aircraft can pick up retardant loads at the base nearest the fire. In addition, NFS crews moved additional fire retardant resources to the Scottsbluff base.
Two Nebraska Army National Guard UH-60 Blackhawk helicopters and 11 soldiers (two crews and a maintenance team) departed from Lincoln Friday morning for the fire, and were continuing air support Friday afternoon. The helicopters are equipped with 780-gallon water buckets. They were making drops in the canyon areas, especially on the south side of the burn area. The northern side was relatively quiet mid afternoon Friday with just a handful of areas showing smoke still coming from the ground. No large plumes of smoke were visible from the north side of the hills.
Fawl says approximately 25 volunteer fire departments staged in a field South of McGrew and worked through the night to fight the wildland fire. Six firefighters were injured in the fire, four were treated and released and two were hospitalized overnight, with  Newman citing heat exhaustion.
Newman said one barn was known to be consumed during the day, but other losses were not known as the smoke was too thick for a full assessment.
Firefighter Ministry was on hand Thursday to provide water and other supplies to those working the lines, and according to their Facebook page, was providing meals during the day Friday. Donations  of bottled water, granola bars, gatorade, eye drops, chapstick, ibuprofen and bandanas were requested, and can be dropped off at the Union Bar until noon Friday.
NEMA has partially activated the State Emergency Operation Center and held a briefing with emergency support function personnel Friday morning.
 "We have been monitoring the increasingly dry conditions statewide and the increased risk for wildfire activity this summer," said NEMA Assistant Director Bryan Tuma. "The rapid response of the local volunteer fire agencies and their capacity to effectively organize a response to this fire should be commended. State agency partners working with Region 22 Emergency Management and the incident commander has been crucial to identify resources needed to fight this fire. Significant investment in training and planning have paid dividends in forming an effective response to this event."
Gov. Pete Ricketts has approved a state emergency declaration which allows state funds to be used to fight the fire as well.
Other resources at the fire include the Wildland Incident Response Assistance Team (WIRAT) from the State Fire Marshal's Office, which deployed to the scene on Thursday to provide assistance and support to the local first responders. The team is highly trained in incident command and assists in working large incidents, coordinating water supplies and area supplies.
Newman says determination of a cause could be made later Friday.
In addition to threatening and affecting private agricultural lands, early estimates from Nebraska Game and Parks indicate the fire burned about three-fourths of the 1,829-acre Williams Gap Wildlife Management Area.