From bean struggles to Hong Kong. Darin D. Fessler talks with Susan Littlefield for this weeks Trading Bits & Bytes
P.J. Conradt, Tredas, joins the marketing conversation to start the week. Overall grains were mixed with corn and soybeans lower, wheat higher. Conradt looks at the current supply demand fundamentals and how that helps to shape the current trade. Conradt also discusses how this may shape 2020 planting decisions and how it can work into current marketing plans.
Listen to the latest episode here:
 How did the corn and soybean markets do for the week?  Does the market care if a Trade deal is done with China?
a.       Yes Initially.
b.       Depends on the deal after the initial move.
Do you think a trade deal with China will get done in the next month?  Did your opinion on the market change after the crop? What will the market be watching going forward?
a.       South American Weather
b.       Demand
c.       Chinese Trade Talks
d.       US Production
8.       How does corn demand look?
a.       Ethanol
b.       Exports
How does soybean Demand look? Where do you think the market goes from here?
Corn harvested was 52% and soybeans harvested was 75% as of Sunday, Nov. 3, according to this week's USDA NASS Crop Progress report. Overall harvest is steadily continuing, but is still well behind. Northern states exemplify this with North Dakota only at 10% complete 50% behind the five year average. Missouri and Minnesota are the last two states that have yet to break 60% complete of soybean harvest.
Winter wheat was 89% planted, 71% emerged and was rated 57% in good-to-excellent condition.
To view weekly crop progress reports issued by National Ag Statistics Service offices in individual states, visit http://www.nass.usda.gov/….
Clay Patton has more on the report here:
National Crop Progress Summary
This
Last
Last
5-Year
Week
Week
Year
Avg.
Corn Mature
96
93
100
100
Corn Harvested
52
41
74
75
Soybeans Harvested
75
62
81
87
Winter Wheat Planted
89
85
83
88
Winter Wheat Emerged
71
63
69
74
Cotton Harvested
53
46
48
51
Sorghum Harvested
78
65
62
72
**
National Crop Condition Summary
(VP = Very Poor; P = Poor; F = Fair; G = Good; E = Excellent)
This Week
Last Week
Last Year
VP
P
F
G
E
VP
P
F
G
E
VP
P
F
G
E
Corn
3
10
29
47
11
3
9
30
47
11
4
8
20
48
20
Winter Wheat
4
9
30
45
12
4
9
31
44
12
3
9
37
42
9
**
National Soil Moisture Condition – 48 States
(VS = Very Short; SH = Short; AD = Adequate; SR = Surplus)
This Week
Last Week
Last Year
VS
SH
AD
SR
VS
SH
AD
SR
VS
SH
AD
SR
Topsoil Moisture
5
11
63
21
6
13
62
19
4
8
66
22
Subsoil Moisture
5
14
65
16
7
15
63
15
5
12
67
16
Several of the largest feed, poultry and pork producers, and soy crush industry representatives from Portugal, France, Spain, Germany, and Italy participated in a trade mission organized by the U.S. Soybean Export Council (USSEC) to visit the U.S. soy industry in September 2019.
Attending companies included Deuka, Nutreco, Feed Alliance (Sanders), Maisadour, Veronesi, Martini, Amadori, Cereal Docks, Bunge, Vall Companys, Pinsagro, Financor, Juan Fimenez, Hermanos Chico, Corporacion Agropecuaria de Guissona, and Cooperativa Ivars. USSEC consultants Gonzalo Mateos, Albert Roda, and Lola Herrera led the delegation. USSEC Regional Director – EU/Middle East North Africa (MENA) Brent Babb also joined the group in their visits to the New Orleans area.
The team's objectives for the visit included learning more about U.S. soy export capabilities/Gulf infrastructure, meeting with animal agriculture companies (including PIC in Tennessee and Ross in Alabama), farm visits in Alabama and Illinois, visiting the University of Illinois, and a visit to CBOT/CME.
In New Orleans, the group visited the Bunge elevator in Destrehan and Russell Marine Group, to get a clear vision of U.S. infrastructure capabilities to export agriculture products as well as its sophisticated system of quality controls. Additionally, the delegates learned of the U.S. sustainability focus through the soybean supply chain – from production to transport and loading.

The group traveled to Alabama and Tennessee to visit two of the main poultry and swine companies and heard presentations related to genetics productions and markets in both areas. As the main swine and poultry producers in EU, the group was very interested.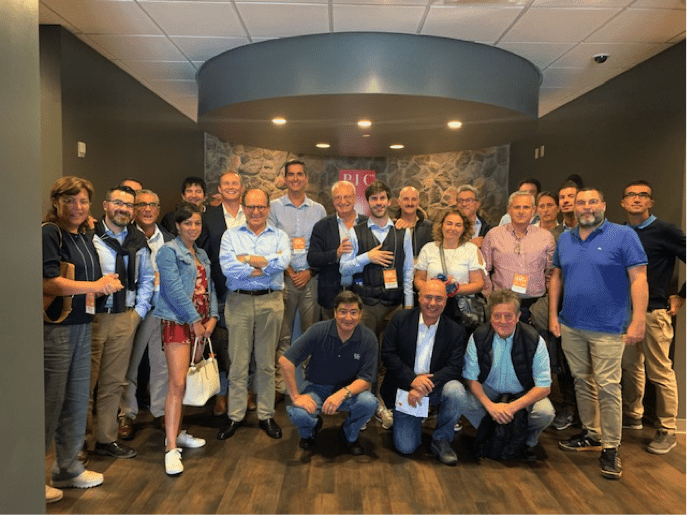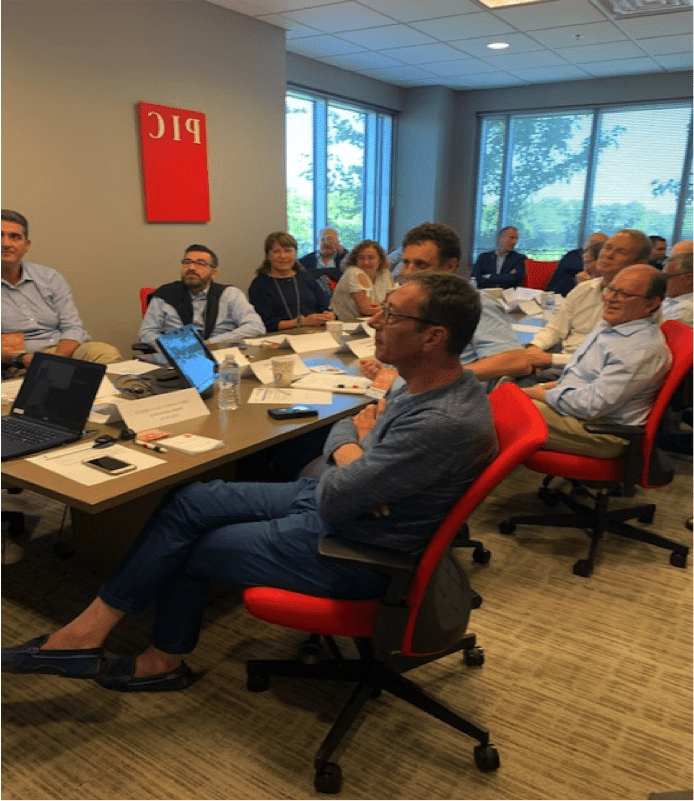 The visit to the University of Illinois offered an overview of how the business and academic systems work together in the U.S. U of I professor Dr. Hans Stein explained to the group that the university is one of the most important in U.S. as an example of coordination between the educational system and agricultural business.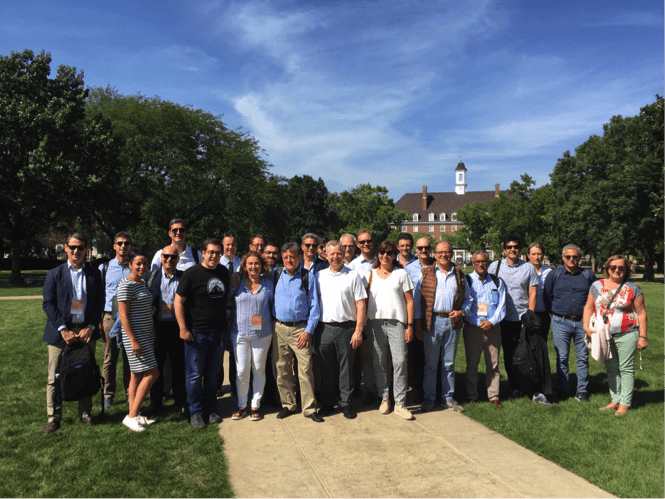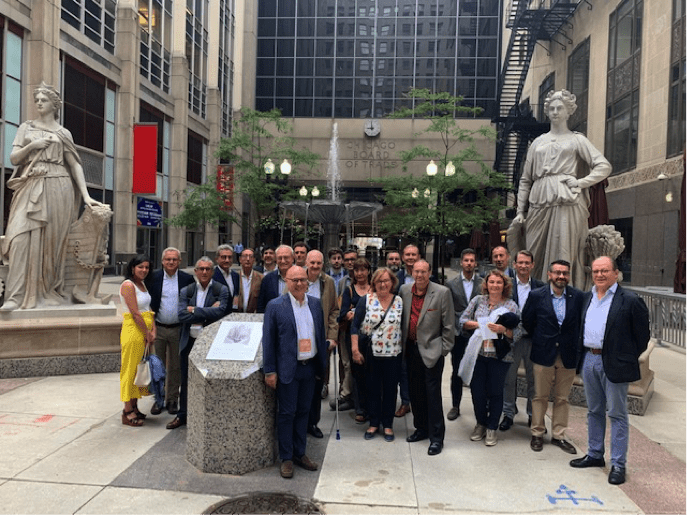 The travellers much appreciated the farm visits and the opportunity to see two models of production, southern and northern. The team met with American Soybean Association (ASA) director Sam Butler in Alabama and with Illinois Soybean Association (ISA) chairman Doug Schroeder in Illinois. The grower leaders described how they work and more importantly, how they plan for their farms to be the most sustainable in the world. Additionally, David Headley, ISA trade team lead, supported the team in the Friday Market day and a visit to the Chicago Board of Trade (CBOT) market presentation by FCStone, Consiliagra, and Trilateral.  United Soybean Board (USB) and USSEC director Doug Winter also presented his Illinois farm and spoke about sustainability, crops, and yields.
The U.S. and China are on track to sign the phase one trade agreement next month. President Donald Trump this week stated the negotiations are running "ahead of schedule." The South China Morning Post reports Trump and Chinese President Xi Jinping are set for a November 17 meeting in Chile to sign the interim trade deal.
Trump says the agreement would "take care of the farmers," among other things, including banking provisions. A spokesperson from China's Foreign Affairs Ministry confirmed the progress, saying, "the two sides made substantial progress" in recent talks. Top-level negotiators met over the phone last Friday and will again very soon.
The agreement includes an estimated $40-$50 billion of agricultural purchases by China over a two-year period, with $20 billion possible the first year. Market analysts say agricultural trade with China appears to be starting to normalize, ahead of the agreement.
In 2017, before the trade war began, the U.S. shipped $19.5 billion worth of agricultural products to China. However, the trade war cut those exports in half.
Higher corn.  Harvest pressure and delays seen around the Midwest. Snow & more on the way.  Review of crop progress of Monday.  Condition report.  Where are we in this market.  A bit friendly these markets.  November WASDE.  Brazilian soybean planting sees some advancement.
Lower corn & beans, higher wheat.  Crop progress report, some flags from South Dakota gave the national picture a bias. Another storm system is moving in.  Some open days to get field work done.   Bloomberg story with misleading story.  African Swine Fever update. Exports to China.   Stronger cattle market.
Consumer demand for sustainable products continues to increase, and soy is ready to deliver. For artificial grass, soy plays a significant role in the product's sustainable success. From putting greens to playgrounds and landscaping to lawns, soy-backed synthetic turf has become an attractive option for a number of diverse residential and commercial uses.
Universal Textile Technologies, with research investment from the soy checkoff, recognized soy's potential to contribute to the sustainability of its products. UTT developed BioCel and EnviroCel synthetic grass backing using soy-based polyols to replace all of the performance attributes of petroleum-based polyurethane. Soy-based polyols add the advantages of price stability, lower carbon emissions and improved air quality.
Following successful product development to expand from replacing petroleum-based backing to latex backing, UTT provided its soy-based technology to SYNLawn. The largest artificial grass manufacturer in the U.S., SYNLawn operates in the commercial, residential and golf synthetic grass landscape markets, with products carried by retailers such as Lowes and Ace Hardware.
SYNLawn broke new ground in the industry, producing the first USDA-certified, bio-based artificial turf in the industry. Today, SYNLawn estimates their products have replaced up to 60% of the petroleum-based polyol with soy-based polyol. SYNLawn says their customers report a more than 50% reduction in water use and lower landfill impact with the longer projected life cycles. Additionally, SYNLawn's artificial grass is 100% recyclable, and the company says it finds it has superior durability to petroleum-based products.
"SYNLawn turf has the natural qualities of real grass in appearance and feel. The product is as innovative as it is beautiful and functional," says Kyle Bridgeforth, a partner with fifth-generation Bridgeforth Farms in Tanner, Alabama, which grows soybeans, wheat, cotton and other row crops. Through a United Soybean Board leadership program, Bridgeforth traveled to New York City to learn more about soy-based products.
"The SYNLawn turf we experienced at the Standard Hotel's Le Bain rooftop was cool and soft to the touch. It collapsed under your feet like regular grass," he adds, likening the SYNLawn artificial turf's look to a real, well-manicured golf course.
A number of diverse industries and customer groups see all the benefits too. Several have stepped into SYNLawn's artificial turf market, including federal agencies meeting looking to meet new water reduction requirements. Agencies must cut water use for industrial, landscaping and ag consumption by 2% annually through fiscal year 2025.
One highly visible SYNLawn customer is the historic Del Mar Race Track in southern California, operated by the Del Mar Thoroughbred Club. The second largest horse-racing venue in the western United States, the site also hosts more than a million visitors attending national touring concerts, weddings and the county fair. Property managers turned to SYNLawn to install more than 8,500 square feet of turf in its paddock area.
Similarly, in Indianapolis, the Riley Children's Health Sports Legends Experience, a 7.5-acre exhibit at The Children's Museum, added SYNLawn product to a nearly an acre and a half of its outdoor area. And to create a happier environment for dogs in need of forever homes, SYNLawn installed artificial pet grass at the Humane Society of St. Lucie County, Florida. The additional play yard transformed an unused field into a fenced area where small dogs play and exercise.
"The SYNLawn representative we met was very enthusiastic about their use of soy. She expressed SYNLawn's appreciation for soybean farmer-funded research and the collaborative effort with USB in promoting the product," says Bridgeforth. "This is a prime example of how progressive ideas and great partnerships increase profitability for soybean farmers,".
Finding new industrial uses for soy has been a long-time priority for the soy checkoff. Industrial uses generate additional soybean demand and have contributed to significant growth in the U.S. soybean industry — from $11 billion to $41 billion in the last 25 years.
"I am constantly amazed at how flexible and adaptable soy is for industrial uses," says Woody Green, USB director from Lynchburg, South Carolina. "I am a long-time supporter of making checkoff investments in industrial uses, and USB for the coming year has invested in several new promising and innovative uses."
USB-funded research and product development encourages more manufacturers like SYNLawn to choose soy, giving U.S. soybean farmers more profit opportunities.
"USB's focus on industrial uses is a very important, needed use of our checkoff dollars," says Russell Wolf, soybean farmer from Tipton, Missouri. "With all of the trade issues we have today, we must continue to find sustainable new uses for our soy — here and abroad."
Wolf also traveled with USB's leadership program to the Northeast to experience soy-based industrial products at the end of the value chain, something farmers don't always get to see.
"Industrial uses are one area we can grow, and USB knows the importance of using our checkoff dollars to do so," says Wolf.
"It was eye-opening to see soy used in an urban setting. Such industrial uses help increase demand beyond animal feed and biodiesel," says Bridgeforth. "The more companies and industries use soybeans, the more confidence and exposure we gain in consumer markets. Ultimately, new partners and collaborations will grow soy demand."
Reaction to today's WASDE report. Weather puts a crimp in harvest, demand for beans is better then corn. S&D report also out for livestock. Seeing a lot of nervous action in the trade.